It's a term I have never been able to use. "Back to Back Best in Show".
Today, at the 2019th British Shepherds Club, our Italian Princess made her debut.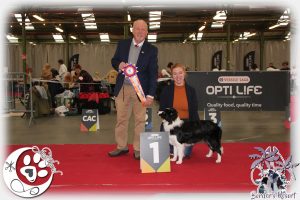 Zayah was entered in Puppy Class and won out of a lovely line-up of Puppy-bitches.
She went on to win the title of Best Puppy from a stunning young male and got her Ring-Of-Honour-Ticket.
In the end, after the lovely Clubshow of LKV where our MacKenzie was BIS Puppy… Zayah keeps the Spiryt alive by winning BIS on this Specialty.
MacKenzie, for the first time in Junior, won and Excellent and third place.
Cashmere, our young lad, also had his Junior-Debut and won his class!
Our sincere thanks to mr. Simon Rooney whom came all the way from Ireland to judge our dogs!
Aswell as to the committee of the British Sheepdog Club and of course our congratz to Zayah's breeder Alessia!