At the Annual Christmas Show in Landen our Girls-Team rocked the Showring. – judged by Mr. N Deschuymere
Under the excellent handling of Stefan Nimueh, Khaleesi and Nalu put their best paws forward.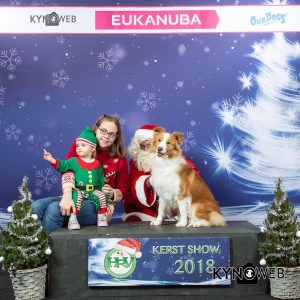 in Junior Class 
+++ Nimueh +++ 3th Place
in Intermedium Class
+++ Khaleesi +++ 1st Place
+ Childs Parade Doggy with the ' cute Elf 'Charlotte 
in Open Class ( at the tender age of 20 months )
+++ Nalu +++ 1 st Place & WINNERS BITCH
All three of our youngsters are now awarded their Breeding-Admission and so we can take a look into the future…
As our dear Stefan can't cut himself into two we had to rely on a second handler and were very lucky that Silke Theunis handled our Khaleesi in the Best Bitch competition. Thank you so much and huge congratz on your own results!
Stefan and his Nalu were unbeatable and won Best Bitch for the 2nd year in a row, there are no words to express how proud I am of my family…
My Dad and Chauffeur… My Mom, Soulmate and Co-Groomer. My Sister-in-Crime and also Co-Groomer Elisabeth and my own Handler… Stefan…
As I was unable today, I owe you all. Love you guys.