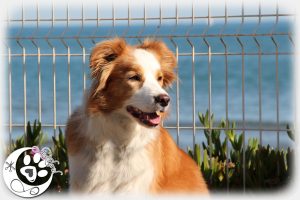 Aest Eloriel verwacht het 2de nestje van Djinai ( Neverland Royal Lady Lilly Jean from Aest Eloriel ). Nadat wij met Khaleesi en Rhaego zo'n geweldige aanwinsten hebben verkregen voor onze kennel zijn wij Lies en Gerard van Forever Clever dankbaar dat wij opnieuw hun geweldige Teddy ( Locheil Reddy To Rock ) mogen gebruiken.
Puppies zullen vrij zijn van CEA/CH – NCL – TNS – MDR-1 – IGS – GG – SN
Interesse in een puppy uit deze combinatie kan u kenbaar maken via de Puppy-Pagina
Pedigree
Puppy
Locheil Reddy To Rock
Etherial Kiss This Locheil
Cucriche In The Fast Lane
Etherial This Kiss
Locheil Golden Delicious
Locheil James Blonde
NOYTCB Fields Of Gold At Locheil
Neverland Royal Lady Lilly Jean
from Aest Eloriel
Elegance in Red
MCh Jessomine Aussie Merlot
Glory Australian Future from Border's Paradise
MCh MGrCh IntCh BelVetCh
Border Follies Iuna Failea
Illusion In Red From Borders Paradise
Border Follies Gazly
Djinai's kinderen uit haar eerste nestje met Damon zijn succesvol in de gehoorzaamheid en op show!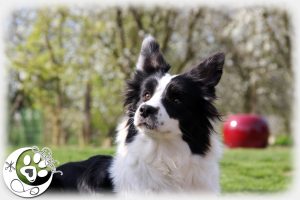 Border's Resort kiest voor een hartenwens.
Sookie's nestje van 2016, met Elegance in Red, aarde uit in een miskraam. Dit jaar zullen wij de poging om de bloedlijnen te combineren herhalen met Red's zoon: Diesel! 
Puppies zullen vrij zijn van CEA/CH – NCL – TNS – MDR-1 – IGS
Interesse in een puppy uit deze combinatie kan u kenbaar maken via de Puppy-Pagina
Pedigree
Puppy
Once a Day I Create History
from Aest Eloriel
Elegance in Red
MCh Jessomine Aussie Merlot
Glory Australian Future from Border's Paradise
MCh MGrCh IntCh BelVetCh
Border Follies Iuna Failea
Illusion In Red From Borders Paradise
Border Follies Gazly
Border Follies Lunna
Eyes of the World Hamunaptra
MCh Waveney Caught In Time
Eyes Of The World Bizzy Bessy
Black Pearl of Shamrock Field
Illusion In Red From Borders Paradise
Walkin Upon A Star Of Shamrock Field
Sookie's kinderen uit de nesten met MJ en Damon zijn succesvol in de gehoorzaamheid, op hiking of op Show